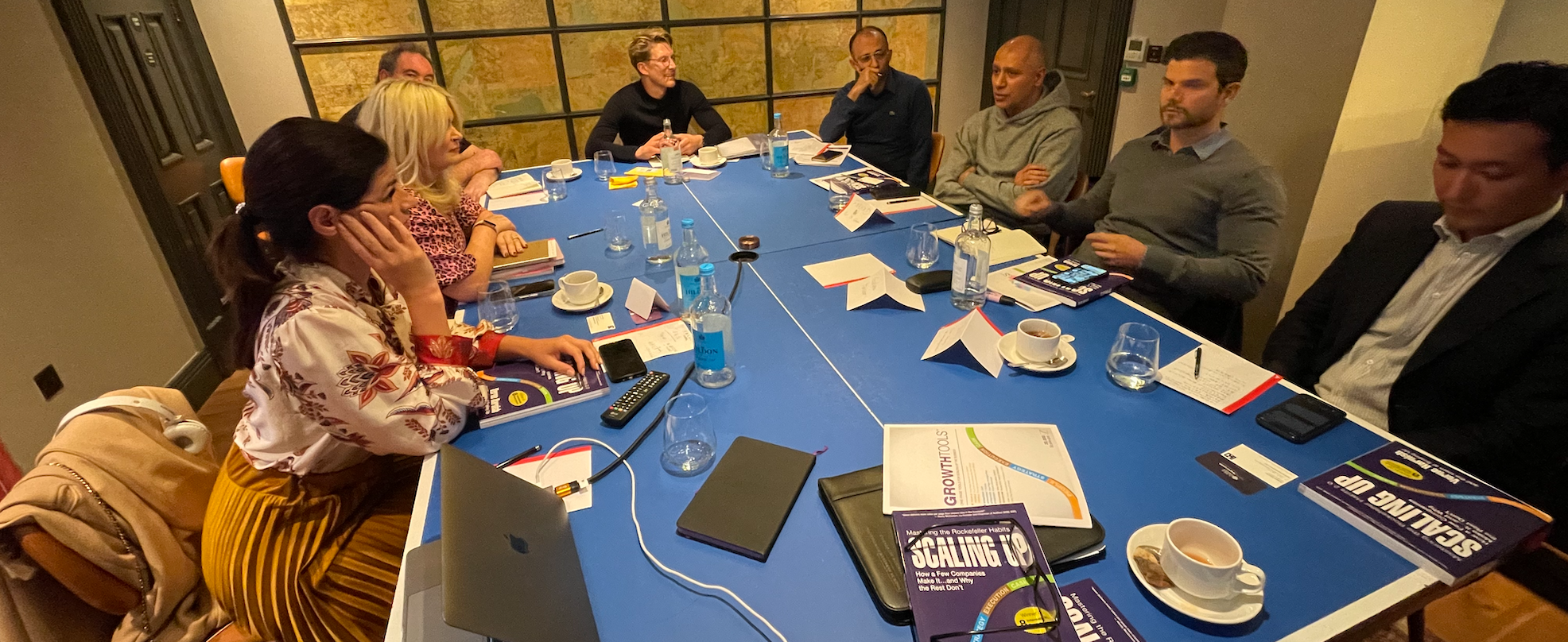 The CEO's Scaling Up Forum typically includes eight to ten individuals from non-competing industries who are committed to meeting on a regular basis – typically once a month.
The confidential forum allows members to speak openly about the challenges they face as business owners.
The Scaling Up Forums are important because they provide a unique opportunity to share and learn with a group of peers in a completely safe environment.
Ambitious MDs and CEOs look to join a Scaling Up Forum because they want to connect with other like-minded executives through a trusted leadership experience that delivers professional, and personal, results.

Our Forums help leaders gain fresh perspectives, clarity, and support to make the big decisions. You will benefit from focused coaching sessions that will be based around the Scaling Up Performance platform.
They also allow you to share expertise and challenge one another to think critically to arrive at better decisions.

Why invest in the CEO's Scaling Up Forum?
It's our mission to help startups and mid-market companies scale up fast, sustainably, and without drama. We've already helped thousands of startups – like Atlassian (when they were still a startup), Splash Damage, Proof, and Remote Year – achieve massive business success with our community of top scaling up experts.
We want to help you reach the next level of business growth faster and drama-free to.
Key Benefits of joining the CEO's Scaling Up Forum
They move your business forward and in new directions
They push you to think differently and broaden your business.
They can help you solve long-standing problems.
They allow you to unburden yourself from day-to-day issues.
They give you focus, clarity and new perspectives.
They will give you access to a wide range of Scaling Up resources and education.
They offer personal support.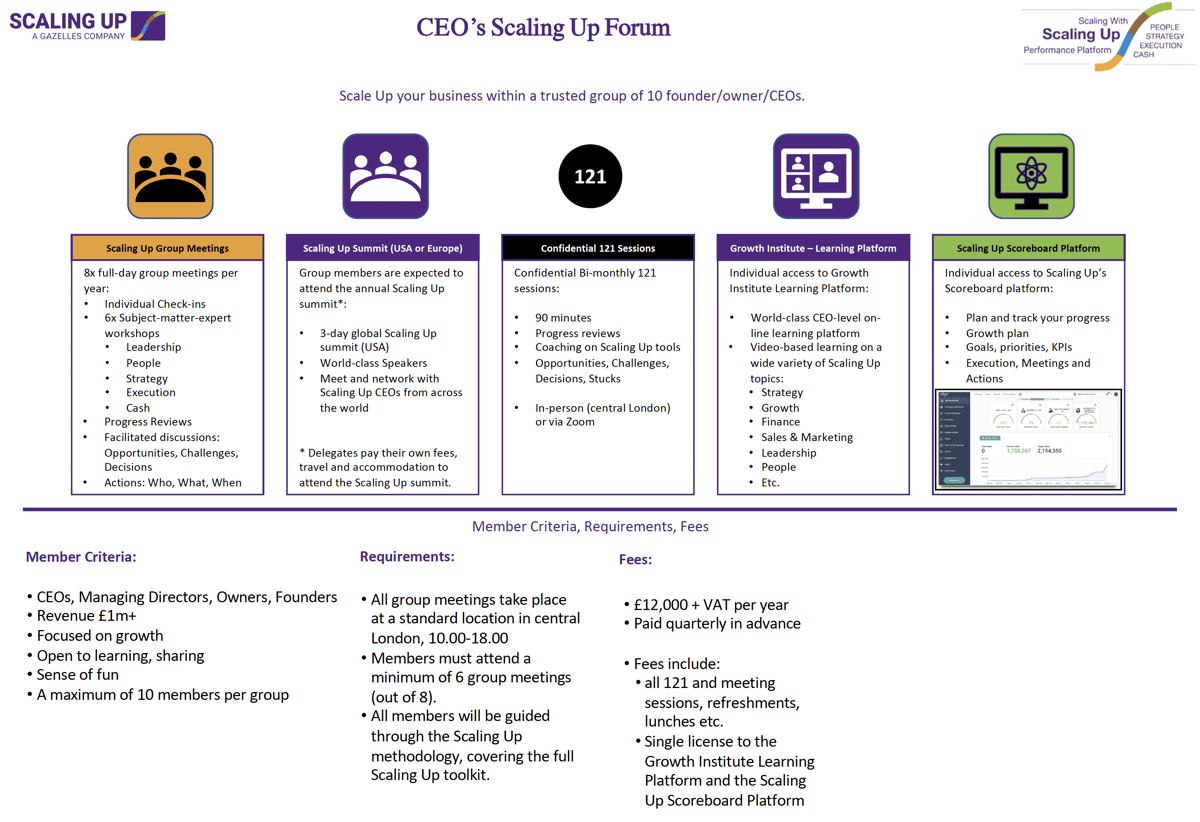 The CEO's Scaling UP Forum
You will benefit from:
8 Full day in person meetings per year facilitated by a certified Scaling Up Coach for each cohort of up to 10 companies:

Individual Check-ins

- 6x Subject matter expert workshops focused on : Leadership , Hiring great talent, Strategic Thinking, Cashflow Mastery and Executional Rigour.

- Reviews on your own Business Growth ambition

- Discussions focused on opportunities, challenges and Key business decisions

- Accountability and Actions: Who is going to do What by When

Each participating CEO will benefit from bi-monthly confidential 90 minute 1-2-1 coaching sessions

Progress reviews

Coaching around implementing the Scaling Up Tools

Help around Opportunities, Challenges, Decisions, Stucks.

In-person ( Central London ) or via Zoom






Individual access to the Growth Institute Learning platform:

World- class CEO level on line learning platform
On demand video masterclasses focused on the Scaling Up coaching curriculum:

Strategy
Growth
Finance
Leadership
Culture
Sales and Marketing
People

Access to the Cashflow Story software for the company (£999 value).

The Cashflow story software provides critical clarity on your cash position and contains the "Power of One" technology to help unlock profit pools and greater cashflow into the business.
Each participating business will also benefit from:
- A complimentary copy of the Scaling Up book and Growth workbook which you will use to save your notes.
- Receive a Scaling Up Assessment for you to complete to provide an overview of the current challenges you face in your business
- Entrepreneur's Scaling Up community Facebook site
Plus...
A full downloadable Scaling Up Toolkit to implement what you learn in real-time.
With the coach you'll be working on your One-Page Strategic Plan, Rockefeller Habits Checklist and other growth tools.
Who Is It For?
It's for founders and CEOs of ambitious companies who:
Will be investing in themselves and their team to ensure that they come out of the crisis, fitter, leaner and the best educated.

Are motivated to learn and implement methods to scale their business and synchronise their organisations.

Have a growth mindset and who have an abundant approach to help others.

Are driven to turn learning into real-time collaboration and real-world application.

Are excited about joining a community of like minded individuals and are happy to share the journey and success with one another